Belcarra Garden Club
BC, Canada

Bulbs to Grow for Christmas
By Nora Boekhout
Once your garden is packed away, your thoughts may be turning to those lovely flowers we see blooming at Christmas.  Sorry to disappoint you, but if you didn't start in September/October, you will be too late to grow your own!  For myself, I always preferred starting my Amaryllis in the New Year anyway.  Christmas has enough action with all the decorations, lights, and poinsettias!

Here's an approximate timetable (for next year's bulb forcing!) from Almanac.com: 15 weeks + for crocus, iris reticulata, snowdrops, daffodils, tulips; 13 weeks + for hyacinths, muscari, scilla; 8 weeks + for amaryllis, paperwhites. https://www.almanac.com/forcing-bulbs-indoors-winter-blooms

On the other hand, you might be lucky to be gifted some started bulbs from Garden shops and wonder how to care for them. 
Most of the bulbs (an exception is Amaryllis) appreciate a humid atmosphere, especially since our heated homes are often quite dry.  Placing your pots or vases on trays filled with wet gravel is an option.  Be careful that the base of the pot is not sitting in the water.

Bright light is a must but keep a check that the sun isn't burning the leaves. Also, don't let the leaves touch a cold window. Rotate your pots each day so that the stems are not bending towards the light. You may need to add supports if the stems are leggy.  Do not place your pots in a drafty area or on top of a radiator. Careful- do not overwater!

People often wonder if these forced plants can be kept for another year.  Be sure to keep the leaves healthy until they brown if you are planning to try this.  These plants may need several years to recoup their energy before reblooming, so don't count on it!  I have good success with my Amaryllis, however.  After blooming, I replant them in large pots and fertilize throughout the summer.  Then I dry them out along with my dahlia and begonia tubers.  (BTW, if you buy the fancy waxed Amaryllis bulbs, they are strictly a one-time plant.)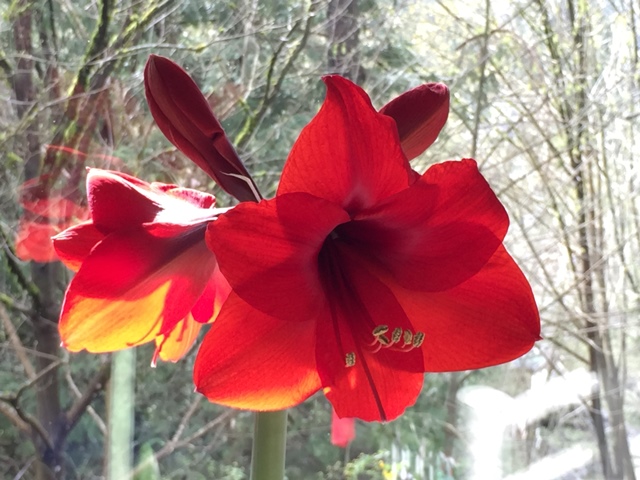 Forcing branches is another topic to consider.
https://www.almanac.com/forcing-branches-bloom-indoors
There is an excellent chart on which are the best trees and shrubs for forcing indoors.
Branches won't flower until they've had about 6 weeks of cold. Forsythias and witch hazels are popular to force in January to early February.  Later on you can try eastern redbud, cherry, and red maples. By mid-to-late February, consider lilacs, honeysuckle, willows, and magnolias.

This is just a "quick look" into Christmas bulb care, so be sure to check out more detailed information online for your specific plants!
Here are a few links on indoor Christmas flowers:
Forcing bulbs for Christmas flowering
https://www.almanac.com/forcing-bulbs-indoors-winter-blooms

Forcing branches
https://www.almanac.com/forcing-branches-bloom-indoors

Amaryllis
https://www.botanus.com/media/wysiwyg/Amaryllis_A-Z.pdf
https://www.almanac.com/plant/amaryllis

Crocus
https://worldoffloweringplants.com/force-crocus-bloom-indoors/
https://gardenerspath.com/plants/flowers/grow-crocus-indoors/

Hyacinths
https://www.theenglishgarden.co.uk/expert-advice/hyacinths-for-christmas/
https://www.gardeningknowhow.com/ornamental/bulbs/hyacinth/care-for-hyacinth-houseplants.htm

Iris reticulata
https://www.guide-to-houseplants.com/iris-plants.html
https://www.gardeningknowhow.com/ornamental/bulbs/iris/forcing-dutch-iris-bulbs.htm
Muscari
https://www.onsecrethunt.com/how-do-you-care-for-muscari-indoors/
https://homeguides.sfgate.com/muscari-bloom-indoors-63965.html
Paperwhites
https://www.almanac.com/how-grow-paperwhites
https://www.houseofhawthornes.com/forcing-paperwhites-narcissus/

Pointsettias (not a bulb!)
https://www.thespruce.com/poinsettias-keepers-or-compost-1403587
https://www.gardeningknowhow.com/ornamental/flowers/poinsettia/poinsettia-care-how-do-you-take-care-of-poinsettias.htm

Snowdrops
https://homeguides.sfgate.com/grow-snowdrops-indoors-68758.html
https://www.thejoyofplants.co.uk/keeping-snowdrops-indoors

 Back to Belcarra Garden Club