Belcarra Garden Club
BC, Canada

Flower Arranging 101 by Megan Davis
By Nora Boekhout and Les Bramley
When we heard that Carol's daughter, Megan, was going to demonstrate flower arranging for our little club, we were intrigued.
Wow… after visiting Megan's professional website, I can truly say that we were in the presence of an incredible flower artist and an amazing environmentally conscious small business owner!  Not only that, but she was delightful as a teacher too!
Megan demonstrated flower arranging using one of her favourite types of vases, the pedestal bowl.  You could also use a pillar candle and place a bowl on top.  We learned that the florist terminology for the ugly underpinnings is called the "mechanics"! Megan suggested using a flower frog which has some weight to it, to counter balance the flowers.  Note that if you use wire, it needs both a top and a bottom, because the flower stems go in the top and out the bottom. Use tape to secure the wire to your bowl.  No matter what you use, make sure that your mechanics are hidden.  That includes the hard rim of the vase itself.
When starting your arrangement, know your viewing level.  Is it a dining room table with 360 degrees viewing or a side buffet with only one side?  It will be more comfortable (for you!) to use a high countertop and a lazy Susan when constructing your artistic creation!
Choosing your flowers can be simple or complex… do you have a specific plan or are you using a variety of flowers from your garden?  Don't be afraid to mix in some purchased blooms as well! Colour choices range from one featured hue to a riot of colors.  Ombre arrangements are planned with light to dark shades or vice versa.
Cut off the bottom leaves (as they will be under water) of your chosen flowers.  For woody stemmed flowers such as hydrangeas, do a cross cut on the bottom and dip it in Alum.  If you see wilting in your arrangement, recut the stem and dip it in hot (not boiling) water.  You will see bubbles come out.  Here's an interesting tip:  Megan uses a turkey baster for watering her delicate arrangements!
| | | |
| --- | --- | --- |
| | | |
Don't be afraid to use older flowers as a base in between or below your newer ones.  Megan effectively used a sunflower whose petals had fallen off!  Dahlias and zinnias are particular good choices as cutting the flowers encourages more blooms.  Long flowers, such as gladiolas, can be used full-size or can be cut in half with the top, unopened flower stem adding an interesting feature. Grasses add softness to lighten the visual weight.  Ornamental hops are attractive and airy.  Vines add a touch of movement and whimsy.
(Megan also gave us a tip for a dried arrangement with hydrangeas.  Put them in a small amount of water which will evaporate slowly.)

| | | |
| --- | --- | --- |
| | | |
Megan's love of flowers and gardens is intimately connected to her respect for the environment and nature.  She admires the Jane Goodall perspective: You can't protect something you don't love and you can't love what you don't know.  Megan's small business is active in "giving back" and she supports many important causes, such as "Doctors Without Borders".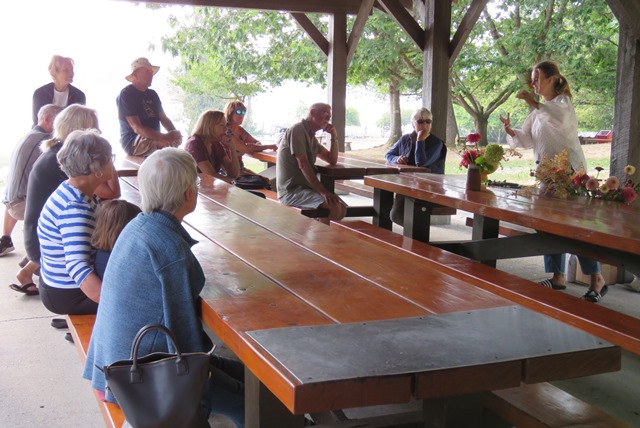 Thank you so much, Megan, for your lovely demonstration… at the picnic tables in our local park! 
You have inspired us to bring our lovely flowers inside!
Related Links
Please visit Megan's own website for delightful photos and videos!  Her flower and landscape design courses have taken her to many exciting places.
Perennial Gatherings | Vancouver Florist | Local Florals
What is a flower frog?
Flower Frogs - What Are They, and Why You Want Them. | Hearth and Vine
What is a flower frog?
Flower Frogs: What Is It and How to Use It in Arrangements | Martha Stewart
With a video
How to Use Flower Frogs | Martha Stewart
How to use a pin frog
How To: Use a Pin Frog - Botanical Brouhaha
Wire frogs and more
Floral Mechanic Basics: Chicken Wire, Floral Foam, and Frogs (teamflower.org)
Some fun DIY flower arrangement ideas
Easy DIY Flower Arrangement Ideas (thesprucecrafts.com)
Ombre flower arrangement along the mantelpiece
How To Make A Ombré Flower - Arena Flowers

 Back to Belcarra Garden Club